We are excited to share that Gateway to Education for Afghan Refugees' Children is supporting children with math and English subjects. In April and May, we had around 19 students in attendance from various levels. Our support has enabled them to perform better and understand lessons better at school.
Every week, the English classes focus on specific areas such as speaking and reading, while incorporating critical thinking and problem-solving exercises. One student noted that he greatly enjoys coming to the class because of such exercises. Through a well-rounded curriculum, the students are encouraged to develop their language skills and enhance their overall proficiency.
In the Maths classes, each student receives individual assistance with their homework assignments, allowing them to consolidate their understanding of the concepts learned during regular school hours. Furthermore, students are provided with worksheets containing a variety of problems to solve, fostering their analytical thinking and problem-solving abilities.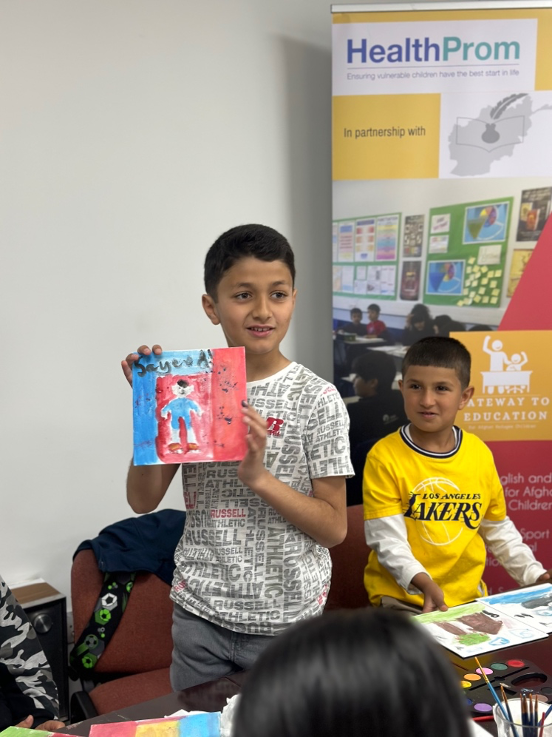 One of the key aspects of these classes is the instruction being delivered in the students' native language. This approach has proven immensely beneficial in facilitating the students' comprehension of mathematical processes, resulting in improved learning outcomes.
Mubashir, a student in math class was rejoiced that he was able to grasp the lessons at school after joining our project. "I could not understand fractions at school but since [I have joined the math classes], I can easily grasp the lessons." He said with a smile.
A fellow student, Qudsiya, had this to say, "the [math] lessons are taught very quickly at school but because we learn them step by step in the project classes, I am able to understand my lessons a lot better."
In addition to academic support, the students also engage in creative activities, such as art therapy sessions. These sessions provide a conducive and enjoyable environment for the children to explore their artistic talents and express themselves freely, promoting holistic development.
HealthProm remains committed to empowering and uplifting Afghan refugee children through education, ensuring they have access to valuable learning experiences that positively impact their lives.
This project operates with the financial support from the British and Foreign School Society, and we are proud to be partnering with the Afghan Association of London in this important initiative.